You can look closely at your game world with the minimap addon for Minecraft PE. The small map is beneficial for you. For example, possible dangers are displayed on the minimap. Dangerous biomes, but also hostile mobs. This also works with passive mobs, such as cows and chickens. You'll never have to search for animals again. Also, you will be able to find temples and dungeons in a few seconds, because they are easier to see on the tiny map. Once you install the map mod, you will never uninstall it again. It's powerful. Mojang's game is based on discovering cool environments. So in the future, you'll never get disoriented during your explorations.
However, the minimap addon does not offer many features yet. The reason is that the pack is new and new features are hard to code. It's worth a try because it's the best free Minecraft PE minimap addon. Compared to VoxelMap, which is only available for Java, the graphics are much simpler. But this also has an advantage for you, because you get higher FPS. The VoxelMap has a teleport system, which is a plus for the PC version. Both editions have in common that they show the direction you are looking at. This is an additional orientation aid. Water and lava are clearly visible on the small world map. As a result, you will no longer burn in a lava lake. You could also see this on a normal map in Minecraft vanilla, but it offers less comfort, and you have to craft a classic map first. Our minimap is instead directly displayed.
Gameplay Test
We played the minimap mod on MCPE servers and in the single-player mode in our gameplay test. We noticed that it could have more realism. Everything looks quite blocky. This is only a side note of the Minecraft PE minimap. Furthermore, you can't set waypoints yet. Maybe this feature will be added in the future. Or you could write down the coordinates on your notice app so that you can find certain spots in your Minecraft PE world again.
Overall, the pack is a bit old-fashioned, but it is currently the only good way to add a minimap to Minecraft Pocket Edition. It really works and is not a fake. We've noticed that there are a lot of videos on YouTube that aren't real. The addon ran smoothly in our tests and is not a fake. A Samsung mobile phone and an iPhone were used for the test runs. The Samsung device had a smaller display and because of that, the visibility was worse. A tablet would probably be better suited. There are only a few points of criticism. Sometimes it can happen that the minimap does not load immediately, but this only happens when you move too fast. Just stop for a moment and the chunk is loading.
Screenshots & Video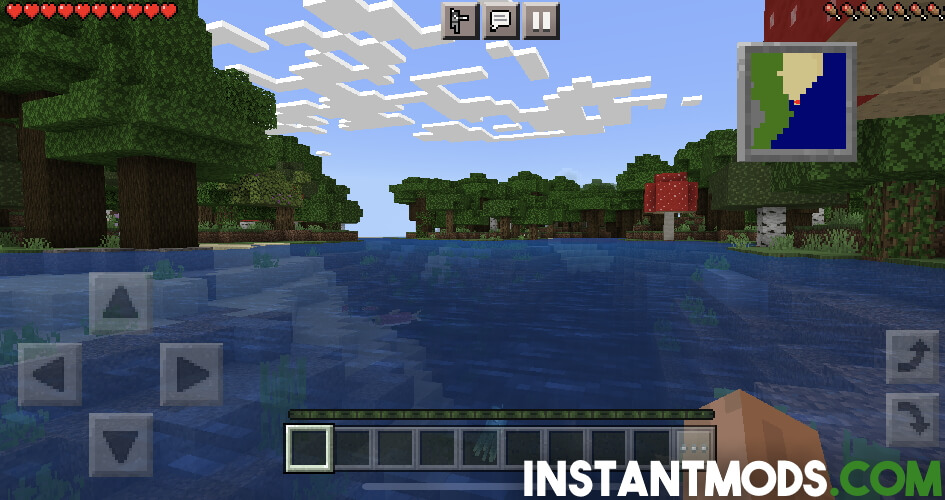 How to install Minimap Addon
You need to disable view bobbing and fancy graphics in the Minecraft settings. The view bobbing must be disabled because otherwise, the map will shake in the upper right corner. Besides, you have to turn on the molang features in the experiments when you create a new world. These settings must also be active on servers if you want to install the minimap there. It is also important to install the pack as a texture pack because Forge and Fabric are not compatible with Minecraft Bedrock.
Minimap Download
You can download the minimap addon on MediaFire. The file is small and can be downloaded quickly, even with a slow internet connection. If you follow all the installation tips, you will be able to add the minimap to Minecraft PE.
This addon requires custom settings. Please read our installation guide.
| | | |
| --- | --- | --- |
| Progress: | Operating systems: | File size: |
| 100% complete | Android, iOS, Windows | 626 KB |