A Minecraft world officially has an end and you can't run endlessly, but in all likelihood, you'll never get to the world barrier because it takes a long time. So if you think about it, you'll notice that the game world is really huge and there are a lot of biomes. You'll quickly get lost in an unfamiliar environment without a good navigation system, just like in real life. Don't worry, because you're not the only one. The high number of users for the VoxelMap mod, which is a real classic among Minecraft players, shows that. Zan initially started the project in 2013, which was taken over by Lahwran in the meantime and finally continued permanently by MamiyaOtaru.
The modification helps all those who have poor orientation. In simple terms, it is Google Maps for Minecraft. In fact, both services are very similar, because both have the goal of simplifying your life. VoxelMap is a minimap in the virtual world that offers some advantages over the normal Minecraft map that you have to hold in your hand. It's especially worth using VoxelMap if you play with a mod like Biomes O Plenty, which adds new biomes and makes the Minecraft world even bigger.
How to use VoxelMap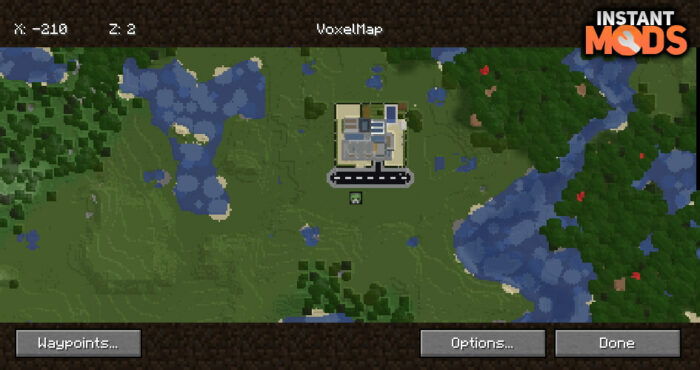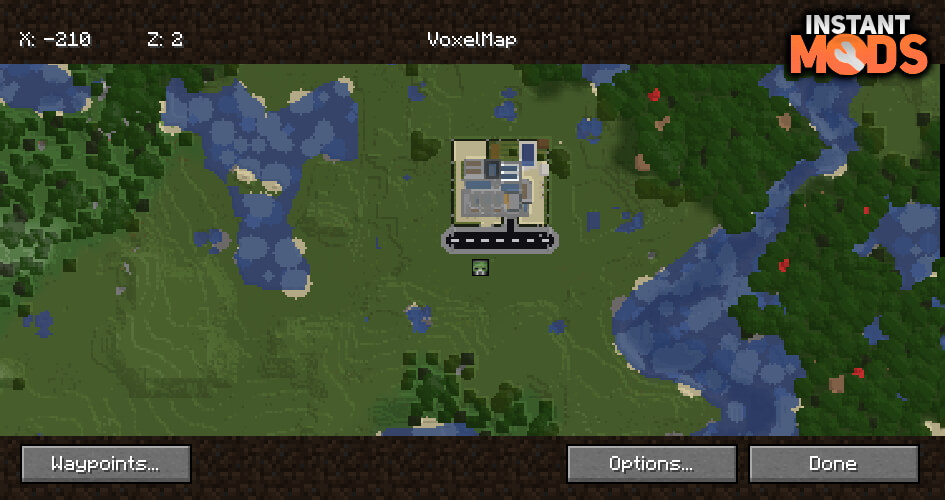 In comparison with the competition, such as JourneyMap and Xaero's World Map, the ease of use is particularly striking. In the next paragraphs, you will find an easy-to-understand tutorial with useful information for you.
First of all, you should know that VoxelMap adds a world map in the upper right corner. This is for a better overview, so you know directly what the landscape looks like and can avoid possible dangers. There is a very special function for the latter: you can display all peaceful and hostile mobs. No creeper will ever surprise you and blow you up again.
However, this function is not automatically enabled, so you have to go to the controls in the Minecraft options. There you assign keys to all functions of the mod. It's best to choose keys that are not assigned, otherwise, there will be annoying overlaps.
Zoom mode
You should notice in the options that the VoxelMap mod has much more to offer. It is possible for you to view the map in full-screen mode so that you get a better overview. This is especially helpful if you have problems seeing everything in the small view. Furthermore, you have the possibility to make the map even bigger by using the zoom mode with a key. You'll be able to scan your surroundings and see everything in detail. Exploring will be much more fun in the future and you'll be able to find nice places for building much faster. So VoxelMap is for adventurers and builders.
Waypoints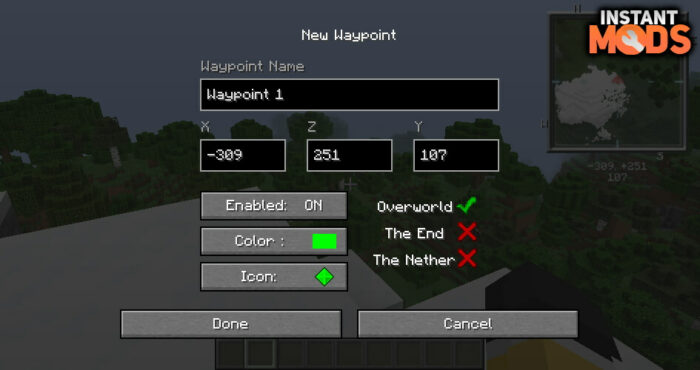 There is nothing more annoying than not being able to find a beautiful Minecraft biome again. That's why the mod includes another feature that allows you to set waypoints. For example, you can mark your home or an exciting cave with a dungeon on the map. This also works in the Nether.
You can even teleport to the waypoints if you have the necessary permission. However, it is advisable not to use teleportation, because it will crash Minecraft if you have bad hardware.
Over time you will probably have some waypoints and may want to reset VoxelMap. You can do this by simply deleting the cache files in the mods folder. After that, your map will be completely empty again.
Multilingual
Also, the accessibility is particularly noteworthy, because the VoxelMap mod is available in many different languages. Polish was added as the very first additional language and over the years more than 40 translations have been added.
Most of the time are modpacks only available in English, which excludes players who don't know this language. Fortunately, in this case it's different and the project is multilingual.
VoxelMap Download
You should pay close attention when choosing Minecraft VoxelMap download links. Every new version since 1.14.4 has two versions, one for Forge and one for Fabric. Because of this, you should have already decided in advance which API you want to use for installation. The older Curseforge links are even only available for the Liteloader and Rift, so it is recommended to use the latest update.
VoxelMap is compatible with these Minecraft versions: 1.20.1 – 1.20 – 1.19.4 – 1.19.3 – 1.19.2 – 1.19.1 – 1.19 – 1.18.2 – 1.18 – 1.17.1 – 1.17 – 1.16.5 – 1.16 – 1.15.2 – 1.15 – 1.14.4 – 1.14 – 1.13.2 – 1.13 – 1.12.2 – 1.12 – 1.11.2 – 1.11 – 1.10.2 – 1.10 – 1.9.4 – 1.9 – 1.8.9 – 1.8 – 1.7.10
| | | |
| --- | --- | --- |
| Progress: | Operating systems: | File size: |
| 100% complete | Windows, macOS, Linux | 1.18 MB |
Frequently asked questions
How do I install VoxelMap?
First, download a modloader and then download VoxelMap. Move the downloaded file to the mods folder and everything will be installed completely when you start the game. If Minecraft crashes, it is often because the installed mods are not compatible with each other. In addition, it can be due to the game versions, for example, if you have downloaded and installed the VoxelMap and the API for different versions. In such unfavorable constellations black screens, errors, and game crashes can always occur. This is no reason to panic because you can reinstall everything. By the way, the installation also works if you use the Tlauncher instead of the normal Minecraft launcher.
Is the VoxelMap available for the Bedrock Edition?
In the past, a few developers tried to create a minimap for the Bedrock Edition and MCPE. The work on it has unfortunately stopped. As an alternative, you can turn on the coordinates and take a screenshot at nice places to find them again. This is of course a bit more cumbersome, but currently, the only solution is to get VoxelMap for Minecraft Bedrock.
Why doesn't VoxelMap save the waypoints?
Basically the saving of waypoints works, but if you leave a Realms server there will be problems the next time and your settings will be gone. This is because the IP address often changes and VoxelMap can no longer assign the data correctly. You can solve this by navigating to AppData\Roaming.minecraft\mods\voxelmap on your PC and manually swapping the latest IP address with the last one.