Minecraft PE has an excellent survival mode, and players enjoy it for what it is, but you know what, it could be a lot better. Especially if the game had more mobs roaming in the different dimensions of Minecraft. The sheep, cows, and chickens are great, but we've seen them so many times that they've become boring.
And we've already seen how slowly Mojang adds new mobs to the game; one new mob per year is just too slow to revamp the game; we need hundreds of new mobs and entities roaming the world of Minecraft right now so that we can enjoy our survival playthroughs even more. And this issue is very neatly resolved by the Mo Creatures addon for Minecraft PE and Bedrock Edition!
What are Mo Creatures
Mo Creatures is a Minecraft mod that adds a lot of new mobs to Minecraft. These mobs come in various categories; some are hostile, some are passive, and some are just there to enhance the ambiance of the biomes.
Mo's creatures mod adds more than 30 new mobs to the game that are unique, and the devs plan on adding even more in the future. The addon was original for the Java edition, but ever since its rise in popularity, the bedrock players had wanted the mod to come to their platform as well, and soon the wish came true. So Mo Creatures for MCPE is just a simple port of the original Mo Creatures mod, which was created for the Java edition of the game. Now that we know what the Mo Creatures addon is, let's deep dive into some of its features. By the way, everything looks much better with the OSBES shader.
Ent
Ent are giant tree people living in the forest; they come in the various wood types Minecraft has.
Goats
Though Minecraft now has goats, goats are also a part of this mod. The goats in this mod come in two different genders; the males can be a little aggressive, while the females are passive.
Turkey
Turkeys are very similar to a Chicken in Minecraft. Both don't take fall damage.
Bears
Mo Creatures adds a lot of new bears to the game, which already exists in Minecraft, the only difference being that you can tame these bears and ride them.
Mini Golem
The Mini Golem is a hostile mob that throws grass blocks at the player. It dies in sunlight.
Wraith and Flamewraith
These mobs are ghosts and hostile toward the player.
Silver skeleton
A stronger version of the skeletons that Minecraft already has.
Boar
Boars are neutral mobs and can often be seen gazing on the grass in the plains.
Birds
These birds can be tamed using seeds, and when they sit on your head, your fall damage is reduced.
Crocodile
The crocodile is an amphibious mob found on land and water.
Bunnies
The bunny is the cutest mob in the mod and comes in various colors. It can be tamed and can also sit on your head. It is immune to fall damage.
Komodo Dragon
It can be tamed and ridden around.
Shark
It is best to avoid the shark, as it is a deadly aquatic mob.
Elephants and Mammoths
Elephants and mammoths look very similar, but the mammoth has fur.
Apart from these, the Mo creatures addon also features a slew of Mobs that might not be the most useful to the player but surely increase the ambiance and the realism of any Minecraft world.
Ant
Bee
Butterfly
Cats
Chimpanzee
Crab
Cricket
Big cats: Lion, tiger, black Panther, Leopard, etc
Big golem
Turtle
Deer
Fox
Sting Ray
Wild Wolves
Scorpions
Rats
Hell rats
Raccoons
Rat
Screenshots & Video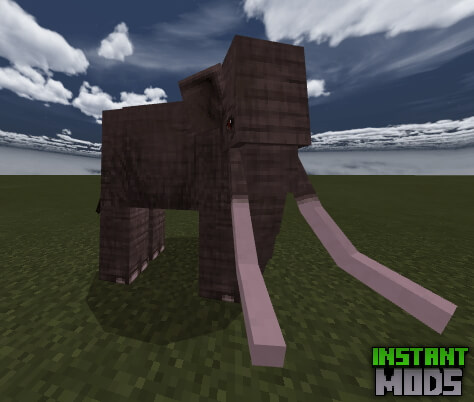 How to install Mo Creatures in Minecraft PE
First, scroll down to our download section and download the Mo Creatures mod for Minecraft PE.
Go to your downloads folder.
Click on the MCPACK file and it will automatically launch Minecraft to start importing the files.
Go to your Minecraft PE settings and make sure that experimental features are enabled.
Click on 'create new world'.
Scroll down to the resource/behavior packs option. Here you should see your installed packs, which you can click on and then activate.
Lastly, click 'create' and your world will be started with full access to the MCPE Mo Creatures mod!
Mo Creatures Download
This addon requires experimental gameplay.
| | | |
| --- | --- | --- |
| Progress: | Operating systems: | File size: |
| 100% complete | Android, iOS, Windows | 5.03 MB |