You can see through all blocks with the XRay Mod for Minecraft. However, it doesn't add new items like other mods but gives you X-ray vision to find ores faster. In plain language, this means that useless blocks such as sand, cobblestone, and dirt are now transparent. This way you will find diamonds, netherite, iron, caves, and dungeons in a few seconds.
Basically, XRay adds more features to Minecraft that you can control via keys. Of course, you can also change the key assignments if you want to. Click on the control menu and select new keys. Normally, the configurations are saved in a text file in a subdirectory of your Minecraft folder. In this case, Advanced XRay is different from other mods, because you can select the blocks you want to make transparent directly in Minecraft. Of course, the whole thing can also be reversed and you can specify which blocks should be highlighted.
This mod works in the single-player mode without any problems, because there is no anti-cheat plugin. Nevertheless, the situation is different on protected servers, because there this modification is mostly forbidden. This has a simple reason cheating is unfair to the other players. As prevention, administrators can install a Bukkit plugin. Such a plugin generates a huge amount of textures around you and you will lose orientation very quickly. Furthermore, the log files can be checked. These files show which player has behaved conspicuously.
You will be permanently banned in the worst case. But this is especially true for larger servers because you and your friends will not use an anti-cheat plugin on your private server or realm. Accordingly, the XRay Mod is also perfect for trolling your friends by proudly showing them your hundreds of diamonds and netherite. And you can do that without being in /gamemode 1. Finally, you should be aware that you can still be banned after playing. This is because most cheaters are banned after a review.
We recommend using the X-Ray resource pack if you are afraid of being banned. You can always use this pack without any problems. Without question, the functions are much more limited here, because only the textures are changed and not the game code. Anyway, a big advantage is that the resource pack is also available for Minecraft PE players. This means that you can also use XRay as an MCPE player.
Best Features
This XRay Mod has many good features. We list the best of them here to give you a better overview.
XRay: Press the X key to get a full X-ray vision in Minecraft. Almost every useless block is made invisible, which makes it very easy to discover ores. The whole thing can also be called ore finder. An exception is lava and water because these elements of your environment won't be hidden. Otherwise, you would accidentally walk into lava or drown in an underground lake. Besides, it's a huge advantage that you can spot any mob immediately. In the future, no creeper will surprise you and blow up your items.
Cave Finder: You activate this feature by pressing the C key on your keyboard. You can see through all blocks and can easily find dungeons and caves.
Fullbright: The name already gives it away. Your entire world is displayed completely bright. More precisely, the brightness value is set to 15, which allows you to see perfectly at night. In addition, you don't need any torches. Tip: You can use the Cave Finder to find dark caves and make them bright, so you won't be surprised by a zombie.
Fly Mode: Usually you can only fly in creative mode, but thanks to this feature you can additionally fly through the landscapes in survival mode. Additionally, the speed can be adjusted individually.
Zoom: With this feature, you can enlarge your vision as if you were using a spyglass. As a result, you'll be able to find the best ores even at a great distance.
How to use XRay Mod
Getting started is a bit difficult for beginners, so we've written down a few tips for you. This should be enough for the beginning and with time you will surely learn how to use the mod most effectively.
We recommend that you do not change any settings at first and then press X to turn the XRay Mod on and off.
Press J to open the in-game GUI. Here you can adjust various settings. There you can use the checkmarks to make a block invisible, which is unchecked by default.
You can also display your coordinates and FPS if you want to.
Finally, it's important to mention that developers invest a lot of time just to make you happy. Therefore, it's only fair if you take a look at the original Curseforge post and the official GitHub page. Especially GitHub is perfect for making the whole project even better. There you can report bugs you've noticed.
Screenshots & Video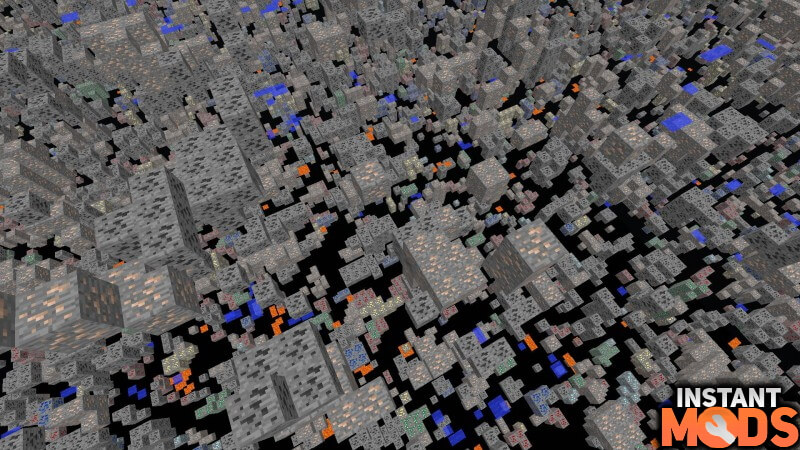 How to install the XRay Mod in Minecraft
This tutorial refers to the installation of the X-Ray mod without Forge and Fabric. You'll probably need about five minutes.
Choose the version that is compatible with your Minecraft version. Click on the download link and you will receive a JAR file that you save to your desktop.
Double-click the JAR file. Now a popup window will open that shows you all the Minecraft versions you have used so far. Choose one of them and press Install.
Enter a name for the new modded profile. Basically, it is enough to press Ok here. However, you may want to choose a different name.
Launch Minecraft. Launch the game and in the bottom left corner, you will see the new Xray profile that you just installed. Select the profile and press the green play button.
Check the controls. Click on options in the Minecraft main menu. Then select controls on the right side. Scroll down until you see the XRay heading. We recommend that you define an individual key for each feature so that there is no overlap. Red-colored letters mean that this key is already assigned.
Meanwhile, you can simplify the installation process significantly. All you have to do is install Forge and move the X-Ray JAR file to your .minecraft/mods folder. Another option is to install it together with Optifine, which is a bit more complicated.
XRay Mod Download
By the way, there are two versions of the XRay Mod that you can download. The core difference between the two versions is the way the Minecraft base code is modified. The first version works without API and modloader and is therefore not compatible with other modpacks. This means that you can't use XRay with any other mods. The second available version (Advanced XRay) works with Forge and Fabric. As a result, you can use as many mods as you want at the same time.
Advanced XRay is compatible with these Minecraft versions: 1.20.1 – 1.20 – 1.19.4 – 1.19.3 – 1.19.2 – 1.19.1 – 1.19 – 1.18.2 – 1.18 – 1.17.1 – 1.17 – 1.16.5 – 1.16 – 1.15.2 – 1.15 – 1.14.4 – 1.14 – 1.13.2 – 1.13 – 1.12.2 – 1.12 – 1.11.2 – 1.11 – 1.10.2 – 1.10 – 1.9.4 – 1.9 – 1.8.9 – 1.8
| | | |
| --- | --- | --- |
| Progress: | Operating systems: | File size: |
| 100% complete | Windows, Android, iOS, macOS, Linux | 138.97 KB |
FAQ
What is the X-Ray Mod?
The pack gives you x-ray vision that lets you see through all blocks. This makes it easier to find ores and gives you a big advantage.
With which Minecraft version can I play X-Ray?
The mod is compatible with every game version.
Can I use X-Ray with Forge?
There are two versions of the mod. One version is exclusively for modloaders (Forge, Fabric, etc.), and the other works without other programs.
Why does my firewall detect the XRay Mod as a virus?
Sometimes this happens even though the file is safe. The XRay Mod is a JAR file and therefore some firewalls are overcautious.
What can I do if my PC downloads the file as ZIP?
Some browsers always download files as a ZIP archive. All you have to do is rename the file and add JAR at the end.