Basically, you should not hack in video games, but some players want to gain an unfair advantage for various reasons. Maybe you belong to this group of players and want to try out the Wurst client in Minecraft. We don't support such hack clients, but we think it's okay on private servers and realms. By the way, it's legal anyway. This article is a review of this "mod".
The Wurst client has been around since 2014 and is actively developed by its German creator. The importance of this was demonstrated a while ago when Minecraft had a major security vulnerability. Only a short time after it became known, the first updates were already available, so that Minecraft hackers can also play safely. Moreover, the developer does not charge any money for his work and all download links are free. BTW, you can also contribute to this project if you speak English and another language. The goal is to translate this software into as many languages as possible.
Furthermore, the project is open source and the complete programming code can be viewed on GitHub. This means that you don't have to worry about viruses or other malware, because there are no viruses in the Wurst client. According to the developer himself, he has nothing to hide. So far, no antivirus program has found anything of concern, which is quite impressive. Nevertheless, it is best to scan the file once again yourself in order not to take any risks.
Wurst Client Features
Overall, there are over 200 cheats, commands, and other features included in this client. That's an incredibly high number, and that's why there's also a wiki. There you can learn everything about the various features and call up a complete Wurst hack list. In order to make it easier for you to get started, here are the five best cheats in Wurst client.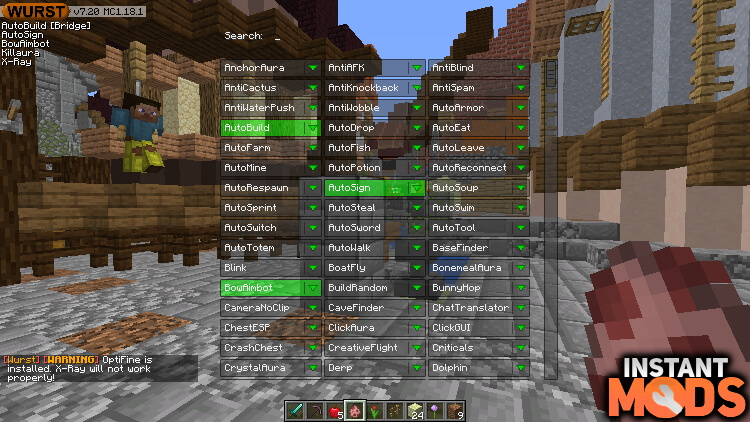 A real classic is Killaura. This hack attacks everything around you that moves. Accordingly, no distinction is made between mobs and other players. You'll surely win every Minecraft PvP combat with Killaura, because the speed of the hits is extremely high. However, this is detectable on servers, and therefore you should not overdo it with the speed.
The AntiKnockback cheat is in combination with Killaura perfect for Minecraft PvP. You get knocked back in fights. This is exactly what is prevented, and as a result, you can aim much better at your opponent.
Probably all dream of being able to fly in survival mode or on public servers. The Wurst flight hack (god mode) allows you to do that, but it must be used with NoFall. Otherwise, you'll get fall damage that will make you die instantly in Minecraft. The flight hack is especially useful in game modes like Bedwars and SkyWars.
Additionally, the Wurst client includes an Alt Manager. This feature allows you to switch directly between different Minecraft accounts without restarting the game. The whole thing works with Minecraft premium and cracked accounts. The Alt Manager is very important on multiplayer servers because it allows you to quickly change your virtual identity.
The X-Ray cheat makes everything invisible except the ores and dungeons. The principle is the same as with the X-Ray mod, which we have already reviewed. You activate this cheat with the X key by default. Unfortunately, this does not work on most servers.
There are also a few features that have been removed. These include the invisibility cheat, AutoBridge, and several questionable hacks. However, in the previous section, you will have learned about the best Wurst features that are still available. So you better focus on those.
How to use Wurst Client
Due to the complexity of the Wurst client, it is a bit more complicated for beginners to use this Minecraft add-on. The most important thing is to open the ClickGUI first. You do this with the right CTRL key on Windows and with the control key on Mac. The ClickGUI is a user interface that allows you to activate and deactivate hacks. Active hacks are highlighted in green and inactive hacks are marked in red. All in all, this menu is quite self-explanatory and has all sorts of options.
Another option for displaying all hacks is the navigator, which you open by pressing the right shift key on your keyboard. The great advantage of the navigator is that it has a search bar, that lets experienced players immediately search for the hack they need. Also, the navigator displays frequently used hacks at the top, which ensures a good user experience.
In addition, there is the TabGUI. It is always pinned to the top of the screen. You use the TabGUI with the arrow keys and the enter key. Compared to the first two menus, it is very simple and does not show any additional information. TabGUI is designed for stressful situations when you need to quickly turn a hack on or off. For example, if you are being observed by server mods or admins, you can continue to play undetected. The result is that you will not be banned.
However, you should also keep in mind that all popular servers have complex anti-cheat plugins that immediately detect when you are playing with hack clients like Wurst. Furthermore, servers like Hypixel usually have rules stating that the Wurst client is not allowed. According to this, you should carefully consider whether you want to take the risk of being banned. It is common that the server owners to take care of the necessary security, which is why it is typically not possible to duplicate items or gain operator privileges.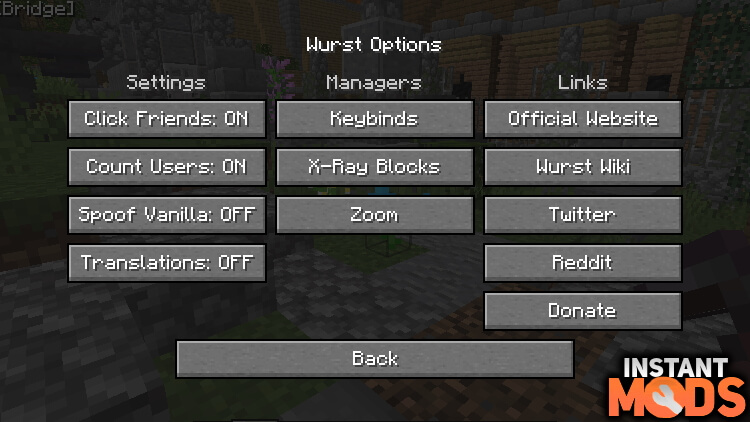 Default hotkeys and key binds
B: FastPlace and FastBreak
C: Fullbright
G: Flight
GRAVE: SpeedNuker
H: /home
J: Jesus (god mode)
K: MultiAura
LCONTROL: Navigator
N: Nuker
R: Killaura
RCONTROL: ClickGUI
RSHIFT: Navigator
U: Freecam
X: X-Ray
Z: Sneak
Wurst Client Download
You can download the Wurst client for Windows, Linux, and Mac. Operating systems don't matter at all during the installation, and therefore the hack program is compatible with all popular devices. Of course, Wurst is also playable with nearly all Minecraft versions and snapshots. The installation is exactly the same as for other mods, and the smartest way is to follow the four steps in this guide.
Install Fabric Installer and Fabric API for your game version. It is important that they are for the same Minecraft versions.
Scroll down to our download section and download Wurst.
Check the filename extension after downloading. Wurst has to be a Java archive and cannot end with .exe.
Move this JAR file together with Fabric API into your .minecraft/mods folder.
Start Minecraft with Fabric and Wurst.
An installation with Minecraft Forge is also theoretically possible, but we do not recommend it. The most recent versions are not compatible with Forge. Another bad news is that Wurst is not available for Minecraft Bedrock Edition and MCPE.
The Wurst Client is compatible with these Minecraft versions: 1.20.1 – 1.20 – 1.19.3 – 1.19.2 – 1.19.1 – 1.19 – 1.18.2 – 1.18 – 1.17.1 – 1.17 – 1.16.5 – 1.16 – 1.15.2 – 1.15 – 1.14.4 – 1.14 – 1.13.2 – 1.13 – 1.12.2 – 1.12 – 1.11.2 – 1.11 – 1.10.2 – 1.10 – 1.9.4 – 1.9 – 1.8.9 – 1.8