There are thousands of Minecraft mods out there that offer all manner of changes to the classic survival game, and it can be overwhelming to sort through them and pick out the very best ones. These mods even extend to the Pocket Edition of the game, available on iOS and android devices. Here we will take a look at the Cars mod for Minecraft PE, the best features of it and how to use it.
What is the Cars mod for Minecraft PE?
Download the cars mod for Minecraft PE: It allows you to place and drive a wide variety of motor vehicles, bikes, and trucks, which is a stark contrast from the boat and horse traversal that is available in Mojang's standard Minecraft version. By the way, it is also recommended to downlad the OSBES shader to optimize the gameplay.
Best Features
The cars available within the Cars mod for Minecraft PE are very fast and allow you to navigate the large worlds much faster than ever before. Despite their speed, the vehicles will not work in water to maintain some realism and you will drown if you drive into the water.
There are a wide variety of vehicles based on real, recognizable car manufacturers such as BMW and Nissan to allow you to live out your dream car fantasies within Minecraft PE. These cars can also be customized with a range of color options. Available are the colors black, blue, red, and white. The best ones are Paul Walker's R34 and Gran Turismo 4 Pace Car. Highlights are the engine bay, rear profile, and interior.
As well as these commercial vehicles, there are also some role-play vehicles such as school buses, fire engines, police cars, and more. These vehicles can be perfect for fleshing out your town and building as well as role-playing with some friends. There are even traffic cones to create your own traffic management within the game and there is the ability to put other players into your police car.
For fans of Need for Speed, there are some car skins within the mod that you are sure to recognize that you can race and reenact events of the racing franchise.
One of the biggest difficulties in Minecraft PE is the limited inventory space for those long mining or looting trips. The car mod goes a long way to address this challenge since the vehicles will offer some storage space so that you can stash your hard-earned loot and quickly drive it back to your base. If you have trouble to find your base, try the Minimap addon for Minecraft PE.
How to get Cars in Minecraft PE
As well as being available to spawn in creative mode, a few of them can also be obtained through survival mode. Learn how to add cars to your Minecraft PE world.
Creative mode: You can get the car spawn eggs from the creative inventory. Just search for "R34" in the menu.
Survival mode: Type following commands in the chat.
/summon bnr34:black1
/summon bnr34:blue1
/summon bnr34:gt4_pc1
/summon bnr34:paul1
/summon bnr34:red1
/summon bnr34:white1
How to use the Cars addon
Doors: Right-click on the car to open the doors. If you want to get in the MCPE car, right-click again, and you can drive the vehicle. If you want to close the doors, right-click while shifting (sneaking/crouching).
Hood: Right-click while shifting when all doors are closed, to open the car hood. You can close the hood with another right-click.
Summary
There are many mods for MCPE, but the cars mod is one of our favorites since it combined excellent traversal utility with role-playing fun for you and your friends. Whether you are driving to distant biomes and filling your storage with precious loot or playing cops and robbers online, the cars mod for Minecraft PE is one of the best.
You should know that everything was made with Blockbench. This software comes with a powerful animation editor for developers. Another great project that was made with Blockbench is the Classic 3D texture pack. It's free and compatible with the latest MCPE update.
Screenshots & Video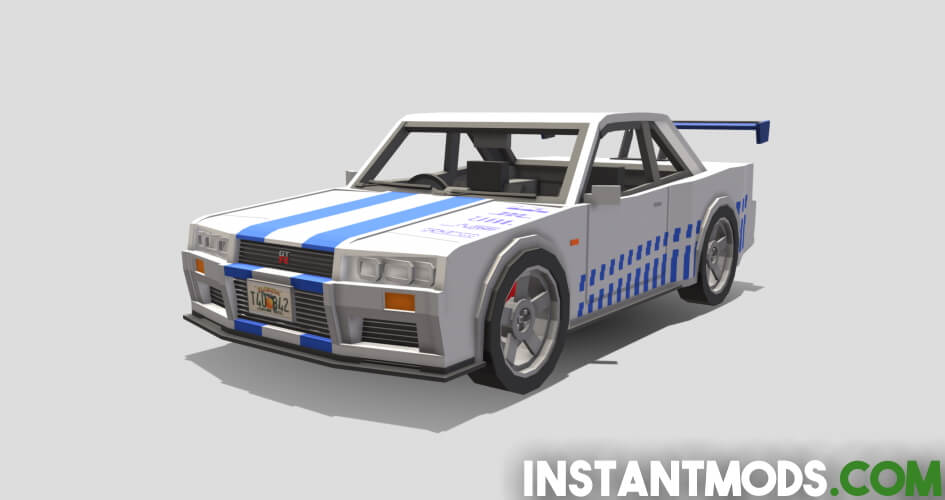 How to install the Cars mod
Many people feel alienated from using mods in Minecraft PE because they do not know how to find, install and use them. Here we will provide a simple, easy-to-follow guide for how to install the cars mod for Minecraft PE and MCPE.
First, scroll down to our download section and download the Cars mod for Minecraft PE.
Go to your downloads folder.
Click on the MCPACK file and it will automatically launch Minecraft to start importing the files.
Go to your Minecraft PE settings and make sure that experimental features are enabled.
Click on 'create new world'.
Scroll down to the resource/behavior packs option. Here you should see your installed cars mod, which you can click on and then activate.
Lastly, click 'create' and your world will be started with full access to the MCPE cars mod!
Cars Mod Download
This addon requires custom settings. Please read our installation guide. Also, all files contain the resource pack (RP) and behavior pack (BP).
| | | |
| --- | --- | --- |
| Progress: | Operating systems: | File size: |
| 100% complete | Android, iOS, Windows | 961.59 KB |