Many players surely know the following problem. You install some mods and a lot of new items or blocks are added through these packs. The problem is that you don't know how to craft all these things in your inventory or at the crafting table. This is exactly why the Just Enough Items mod was developed. It gives you a better overview of Minecraft. Originally, the whole thing was called Too Many Items, but there is no difference in the way it works nowadays. There has also been a recipe book in Vanilla for a few years, but JEI is even more comprehensive. In addition, the authors put a lot of emphasis on usability, performance, and stability. This project would hardly have become so successful otherwise.
So from now on, you will know how to craft new weapons and tools. The best part is that you don't even have to search the internet, but always have the recipes with you because of the JEI mod. This will save you a lot of time. You will find a grid on the right side after installation that lists all blocks and items. Besides the normal vanilla content, there is also everything from your installed mods. If you're in survival mode, you'll be shown how to craft an item. Whereas in creative mode, you can select any texture. By the way, some of them also have a link to an article on the internet that explains how to use them in Minecraft.
The Just Enough Items mod is perfect especially for beginners because it is a very good help to get better in the game. Moreover, there is an advantage for developers, because the API is extremely well-documented and does not present any difficulties. About a hundred contributors are responsible for this, who make this modification better with each update. Obviously, the programming language is only Java, because Minecraft is programmed in this language. Also, there is one more piece of positive news and that is that JEI is not a core mod and therefore only Forge is needed for installation.
How to use Just Enough Items
But now we want to explain how the controls of the Just Enough Items mod work by default. We have divided the instructions into different sections for a better overview.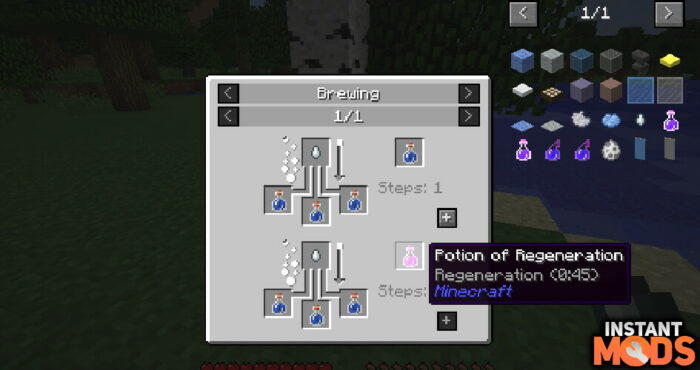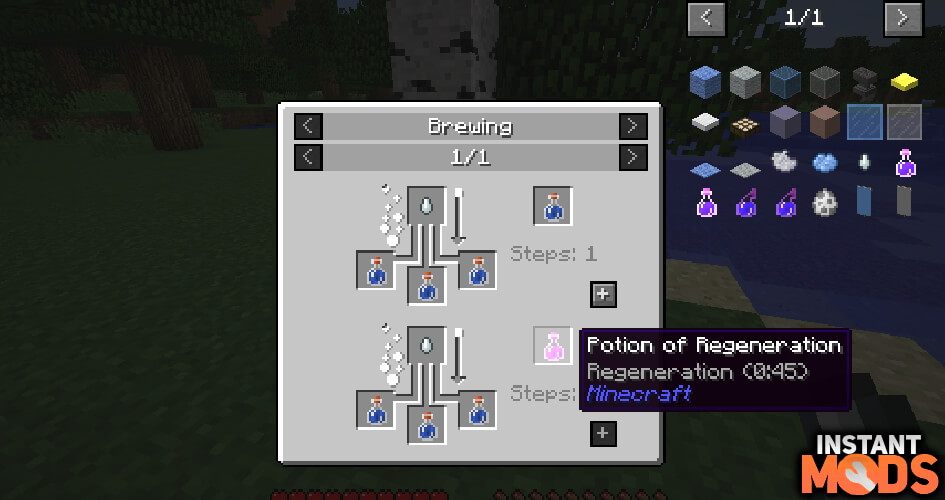 First, let's explain the inventory. In the inventory, you can move the mouse pointer over an item and press R to activate the recipe mode, and display the recipe. If you press U instead, you'll find out what the item can be used for, for example, to make new blocks. You can also use the Ctrl + O keys to toggle the JEI list on and off. You switch between pages with your mouse wheel, which is really convenient. However, sometimes when you press the R or U keys, nothing is displayed because they have no use or you can't craft them.
Sometimes there can be overlaps in the key assignment, which is why you should first go to controls in the Minecraft options. There you can check if something is highlighted in red and change the assignments.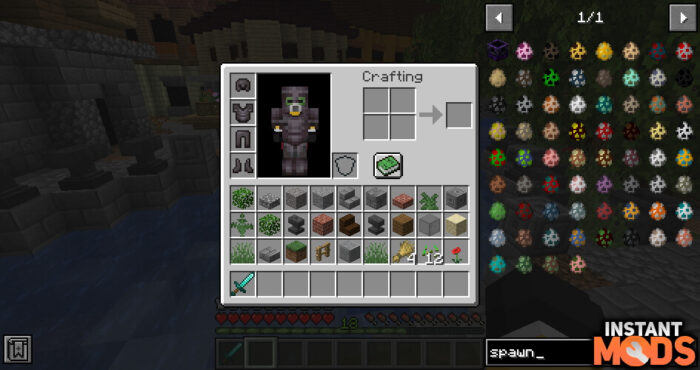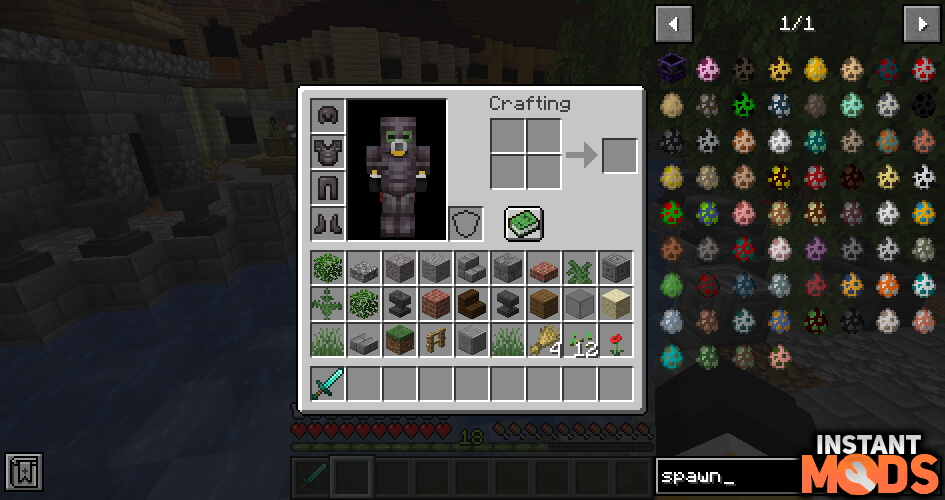 Furthermore, the search bar is extremely helpful for you, because you will quickly lose track of everything. You can either click on it or press CTRL and F to open it. Then you enter your search word. If necessary, you can also right-click on the search bar to clear it. Sometimes the search bar is displayed in yellow because you accidentally clicked on it twice. Click twice again to turn it off. In case you use an additional modpack you can put an "@" in front of the search query and write the name of the pack directly behind it. This way only blocks and items from this pack will be displayed. This function is especially useful for larger projects.
In addition, you can get all items and blocks from the JEI menu by clicking on them. You have to click on the small wrench next to the search bar to open the configuration menu. There you can activate the cheat mode or creative mode so that you can get all items in survival mode as well. Unfortunately, this only works in single-player mode and not on public servers. You also need the FTB Library to do this.
Just Enough Items Download
The download links are always up to date and are available for different Minecraft versions. At the top is the latest file from Curseforge, which is usually the one that will run best on your PC. All files are checked for viruses and will not cause any damage to your computer. After downloading Just Enough Items, move the file to your mods folder, which is generated by Forge. This API is mandatory if you want to download and install JEI.
Just Enough Items is compatible with these Minecraft versions: 1.20.1 – 1.20 – 1.19.4 – 1.19.3 – 1.19.2 – 1.19.1 – 1.19 – 1.18.2 – 1.18 – 1.17.1 – 1.17 – 1.16.5 – 1.16 – 1.15.2 – 1.15 – 1.14.4 – 1.14 – 1.13.2 – 1.13 – 1.12.2 – 1.12 – 1.11.2 – 1.11 – 1.10.2 – 1.10 – 1.9.4 – 1.9 – 1.8.9 – 1.8
| | | |
| --- | --- | --- |
| Progress: | Operating systems: | File size: |
| 100% complete | Windows, macOS, Linux | 995.48 KB |
Frequently asked questions
What is Just Enough Items?
Just Enough Items is one of the most helpful and successful Minecraft mods of all time. It is also known by the abbreviation JEI and gives you access to a list of all available recipes that exist in the game. The great thing about it is that the project is compatible with other mods as well.
Does the Just Enough Items mod for Bedrock exist?
Sadly, at the moment there is no way to release something as complex as this for the Bedrock Edition. On console and mobile devices, there is no Minecraft PE or MCPE addon that includes Just Enough Items features.
Is Just Enough Items allowed on Hypixel and other servers?
Basically, you use any mod on servers at your own risk. We believe that using Just Enough Items on servers like Hypixel is not against the rules. There are also no problems with it on realms.
Why does JEI not work?
An error message appears in most cases because the installation was performed incorrectly. Make sure that all files are installed for the same Minecraft versions and restart the game.