Faithful is the most popular Minecraft texture pack of all time. However, there are some things about this project that you probably didn't know. Unfortunately, these are mostly unpleasant details that happened behind the scenes. This article works through everything chronologically and tells you the truth about Faithful.
The story of the original Faithful texture pack starts in 2010. At that time, the British player Vattic started to rework every Minecraft texture. The result was a 32×32 texture pack that was very similar to the classic default pack. Many other players helped him accomplish a lot of work because Minecraft has a lot of blocks, items, and other design elements.
In 2016, the creator Vattic disappeared. There were various rumors about what could have happened to him. Most thought that he had become homeless and therefore could no longer work on Faithful. This rumor came mainly from a single fellow. Namely, from the Russian-born xMrVizzy, who took over the project from Vattic at that time.
He also had permission for the takeover, as a Twitter screenshot should prove. But years later, it turned out that the chat on Twitter is fake and was edited. Vattic wrote in the Minecraft Forum that he did not know him at the time of the alleged conversation and has never chatted with him. Moreover, he points out that a native English speaker would never express himself so badly.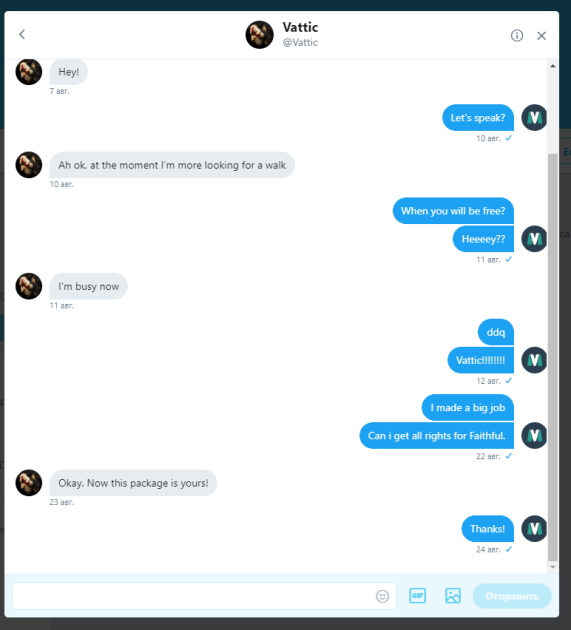 Accordingly, it can be assumed that xMrVizzy had deliberately lied. His goal was to continue developing the most popular texture pack for Minecraft and earn money with it.
Faithful in the Marketplace
At first, you could not see that he had bad intentions. After all, fans were happy about updates. The first doubts about xMrVizzy, who also sometimes calls himself Kraineff on the internet, arose at the beginning of 2019 when Faithful was released in the official Marketplace. This gave Bedrock players the opportunity to play with the pack, but they were charged an incredible 1340 Minecoins for it. In other words, that's just eight dollars, which made Faithful the most expensive Minecraft texture pack. At the same time, Kraineff also started to delete many Faithful MCPE packs because of copyright infringement. This is shocking because Vattic had allowed everyone to use his textures. The only condition was that you give him credits.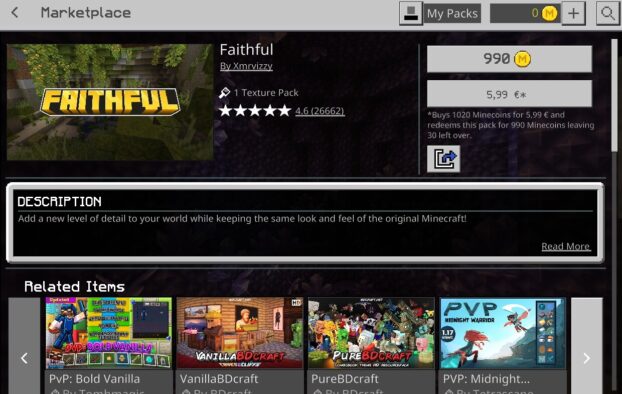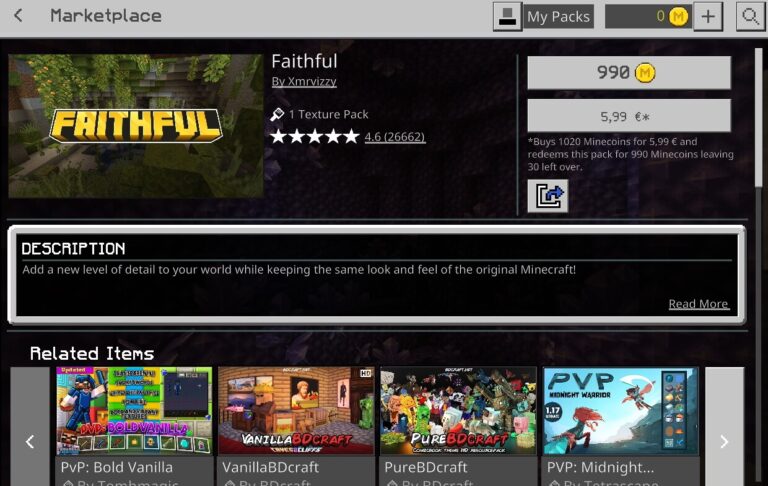 People on Reddit legitimately asked why the price is so high. Kraineff replied that he supposedly had no influence on the price and that he would like to offer the pack cheaper. Short and sweet years later, it still cost the same. So here he lied again and just wanted to make as much money as possible. This is really brazen because he never had permission to offer Faithful 32x in the Marketplace in the first place.
Faithful and Compliance
By the middle of 2020 at the latest, Kraineff was getting into too much trouble. He worked less and less on new textures, leaving that almost entirely to the other Faithful team members. It's important to mention here that they all did this voluntarily and were never paid for it. So Kraineff could sit back and be the only one earning from the Faithful texture pack.
Anyway, this was not enough for him, and he became a megalomaniac. He insulted everyone who criticized him on Discord after a long absence. Furthermore, he wrote that the others should just make textures, and he doesn't want to have a democracy. This is a really distorted view and a slap in the face for everyone who was part of the Faithful team back then.
As a result, many left the team and started the Compliance community project. The creators of Compliance want equal rights and a fair say for everyone. They also learned that Kraineff was never authorized to take over Faithful from the actual author.
Thereupon they tried to contact the actual creator Vattic. Unfortunately, this turned out to be extremely difficult, since the Briton had not given any sign of life for years. Surprisingly, he did answer at the end of 2021, and he was informed about what had happened during his absence. The next steps were then planned together. They collected money for him so that he could pay for the most necessary things in life. So apparently the rumor was true that he is in a precarious situation privately. Although he finds it strange to accept money for working on a texture pack, within a day over a thousand pounds were collected. This shows that the Minecraft community is something different.
AntVenom's video
The public was informed about the theft in cooperation with YouTuber AntVenom. Fortunately, AntVenom has many subscribers, which is why his video was clicked thousands of times in just a few hours. It took about twenty minutes to rehash the events of the last few years and show all the grievances. If you want to learn more side notes, be sure to watch this YouTube video.
In the future, legal action will be taken against Alexey Krainev (xMrVizzy). Accordingly, this story is not over yet and the biggest Minecraft scandal will go into the next round.
What is your opinion on this topic? Feel free to write a comment and share this post on social media so others can learn about these issues as well.