Loled Furniture Addon is very popular among Minecraft PE, Windows 10, and Bedrock Edition players. It's no wonder that this addon adds over a hundred new blocks. You'll be surprised at all the details that the developer Loled has included. Basically, you can set up a really expensive gaming room and get inspired by your favorite YouTuber. There is really everything that you need to decorate a Minecraft house.
That's not all, because there are also new items, skins, and NPCs that change Minecraft a lot. Also, there is some functional furniture that you can use. For example, you can sit on a chair and use a refrigerator, but especially in the kitchen is much more for you to discover. There are numerous kitchen appliances. Besides, there are also some blocks for the living room, bathroom, and technical devices like a notebook.
In addition, there are also pieces of furniture that can have different colors. The most important here are the armchair, sofa, and curtain. But that's still not all, because there are also changes to your skin. You can look like Marshmello or put on headphones. The Loled Furniture mod makes all this possible.
How to use the addon
At first, it may seem a bit complicated, but after a short time, you will know exactly how to use the Loled Furniture Addon. However, you should pay attention now, because otherwise, you'll have problems in Minecraft. The first thing you have to do is search for sugar cane. Then you can craft paper. After that, you have to place three units of paper horizontally next to each other on the workbench. The result is a real dollar that you have to exchange with NPCs to get the blocks in the stonecutter. This dollar is extremely important because it is the only way to get new furniture. You may be a bit lazier, which is why you can simply download a world below that already has all the furniture.
Screenshots & Video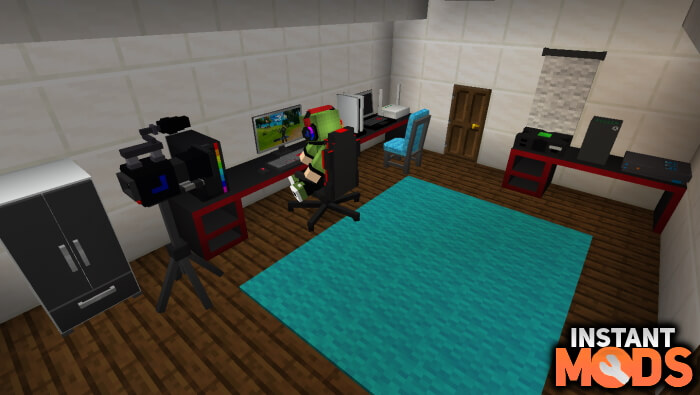 Loled Furniture Addon Download
We did not find any viruses in the files during our tests. Accordingly, you don't have to be afraid of a download. We used an Android and an iOS device for the tests that had the latest MCPE update. However, we cannot guarantee that the pack will also work on consoles like Xbox and Playstation, but it will be on Windows 10. We recommend installing an alternative from the official marketplace if you are a console player.
| | | |
| --- | --- | --- |
| Progress: | Operating systems: | File size: |
| 100% complete | Android, iOS, Windows | 20.83 MB |
Is Loled Furniture Addon free?
Yes, the addon is free of charge.
Can I download the Loled Furniture add-on from Marketplace or Mediafire?
Currently, the official download links are only available via Mediafire.
How do I install Loled Furniture addon in Minecraft?
Download the .mcaddon file and use the pack for one of your Minecraft worlds. You also need to activate "Experimental Gameplay" in the world settings.