Minecraft is suitable for children, but ActualGuns 3D addon for Minecraft PE and Bedrock Edition changes that. You can even play with it using third-party programs on consoles. This mod adds guns, but not random boring ones that you see in every shooter. The weapons could certainly be used in war, but luckily they are only virtual. From now on you can shoot at everything around you in Minecraft.
Furthermore, all guns are in 3D, which makes the new Minecraft items even more realistic. In addition, there are many different animations that you can even see in the third person. One highlight is the bullets because they have been animated really well. They fly around wildly just like in real life. There are also gunshot sounds that can scare you a bit at first if you play at full volume.
By the way, the two best rifles in this pack are Barret M82A1 and AWP. Both are sniper rifles and have good telescopic sights when you aim. Of course, there are even more guns. You can see most of them in the screenshots. You get them by trading with clerical villagers. However, you can also cause havoc in your Minecraft world in other ways. For example, with a chain grenade that you throw in front of you, and then it explodes. Repeat this a few times and the landscape will look as if a bomb has hit it. More grenades will be added, says the lead developer. He revealed this to a fan in a comment.
The ActualGuns addon was created for variety in Minecraft, but it even gives you advantages if you go hunting. You can now aim at animals from a long distance and then loot the meat. On top of that, you won't have to get so close to hostile mobs at night. However, there is also something negative, because the developer recommends using a high-end mobile device because the ActualGuns 3D mod is very complex. This can cause Minecraft to crash and that's really annoying. Alternatively, you can use the mod in Windows 10 Edition, because a computer is better suited for something like this. Ultimately, it's best to try it out for yourself to see if everything works with your device.
More content will be added in the future, which will surely make you happy. You can help the development team by thoroughly testing the ActualGuns 3D addon and reporting bugs. Also, you should know that there are no plans to add skins and enable melees. Besides, some 3D models were designed by xHope on his cell phone. This is really extraordinary because a small screen makes the work even more difficult. Nevertheless, this is not noticeable at all, because the textures look like they were created by a professional.
Screenshots & Video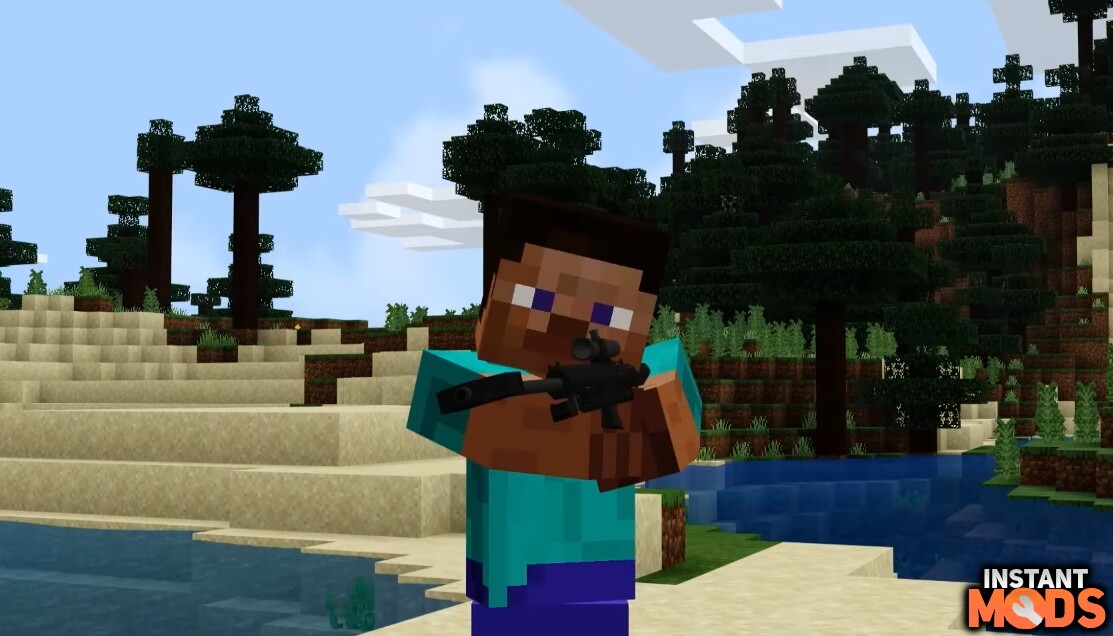 ActualGuns 3D Download
This addon requires experimental gameplay features. You need to enable "Additional Modding" and "Holiday Creator features" in your world settings.
| | | |
| --- | --- | --- |
| Progress: | Operating systems: | File size: |
| 100% complete | Android, iOS, Windows | 2.49 MB |