There are few mods that are as popular as the Furnicraft 3D Block Addon for Minecraft PE/MCPE. Unfortunately, in Vanilla there are only a few possibilities to make your house really beautiful. You usually have to convert other blocks and use a trapdoor as a blind, for example. This is finally over because with this add-on you get several hundred new pieces of furniture and you can use all of them for decorating.
Furthermore, it's a cool thing that you can actually use some furniture because they are functional. You could set up a gaming room and sit on the chair in front of your screen. Another option would be to put a TV in your living room and sit on the sofa. In the end, there are endless things you can do with Furnicraft 3D mod in Minecraft.
By the way, the Loled Furniture addon is a great alternative to this pack. It's best to test both and then decide which furniture addon you want to play with in the long run.
How to use the Furnicraft 3D Block Addon
First, you should get four planks and make a workbench in your inventory. You need to put red dye in the middle top square of the workbench. Put green dye in the middle row on the left and blue dye on the right. In the middle is a clay ball, which you get by mining clay blocks. A new item will be made as a result, which is needed to get all the new blocks from the Furnicraft 3D Block Addon.
Then you go to a stonecutter and exchange the clay for furniture. On the left side of your screen, you will see everything you can get. If you want to have more pieces of furniture you just have to repeat the above tutorial. There is also the possibility to make a precious ring. You need seven rose gold and one diamond.
That's not all, because you can also create your own family with NPCs. Besides a virtual wife, you can also have a baby that you get by trading with a female villager. Accordingly, you need to find a village first if you want to have a wife and child. Your child will grow up and will come out of the crib. After that, it is necessary to feed the child with sugar, apples, or cakes so that it continues to grow.
Screenshots & Video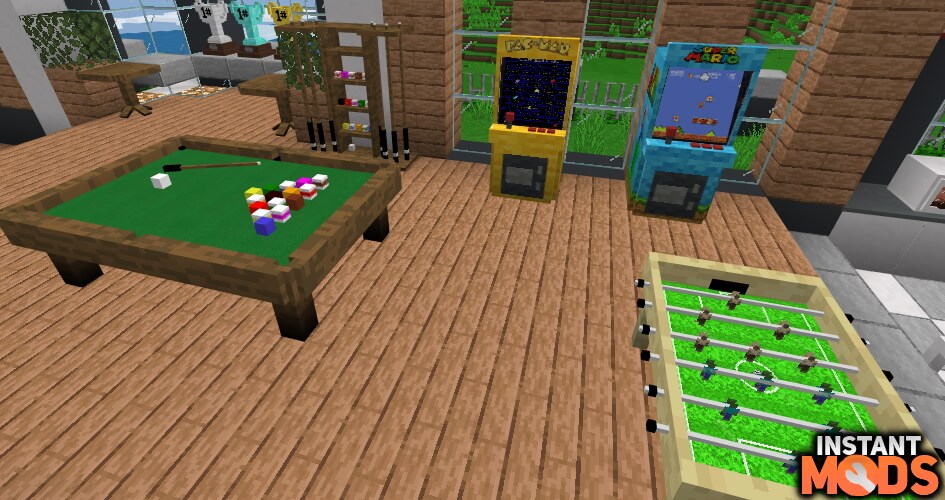 Furnicraft 3D Block Addon Download
All download links are available on the official website of the developer. He uses URL shorteners for his links, which is not a big deal. However, you should be careful not to click on advertisements, because they are very intrusive. After that, you can download Furnicraft 3D Block Addon directly from Mediafire.
The last step is to add the MCPACK files to one of your Minecraft worlds and enable experimental gameplay. Optionally, you can also install the entity pack to make your environment even more varied.
| | | |
| --- | --- | --- |
| Progress: | Operating systems: | File size: |
| 100% complete | Android, iOS, Windows | 21.47 MB |